Beijing, the capital city of China, is the nation's political, economic, and cultural center. It is also a famous international metropolis as well as one of the most compelling tourist destinations. China has a territory resembling a proud rooster on map, while Beijing is located right at the throat area of this rooster. Therefore, it holds an important strategic position for traveling down to the southern China from the further northeastern regions. Meanwhile, being close to the port city of Tianjin, Beijing also serves as the most important transportation hub and port of entry.
Culture and Art
Beijing is a historic city with 3000 years of history. It has served as the capital city for five dynasties, covering Liao (947 - 1125), Yuan, Ming, Qing Dynasty and Republic of China. There are many magnificent imperial buildings left from old times, making Beijing a city with the largest number of existing royal palaces, gardens, temples and tombs. Among all these historical sights, the Forbidden City and Great Wall are incontestably the most reputable ones. Besides, the long history has also bestowed Beijing with rich culture deposits, making Beijing one of the most popular cities in the world.
The modern Beijing has inherited the long and profound culture and absorbed a lot of cultural elements from outside world. It's growing to be more open, diversified and inclusive.
Entertainment
Beijing can offer a lot of choices for entertainment. There are various performances, international exhibitions, colorful nightlife, shopping malls, dancing clubs and more. Peking Opera, the "national essence" of China, has a history of over 200 years. It has glamorous costumes, melodious singing, variable masks, and rich cultural connotations. The famous Chang'an Theater, Laoshe Teahouse, National Centre for the Performing Arts, Meilanfang Theater and many small theaters all have traditional Beijing opera performances. If you prefer something modern and wild, bars in Houhai, Sanlitun, and Nanluoguxiang might be better choices for you. However, if you want to feel the charm of old Beijing, wandering in the Siheyuan would be excellent choice. Siheyuan is the main residential architecture form in Beijing. The narrow and sinuous alleys formed by the Siheyuan houses are Hutong. The most charming hutong in Beijing is located in Shichahai area where you can ride a tricycle and shuttle among the puzzle-like Hutongs and feel the pulse of old Beijing.
Beijing Food
As the capital city of China, Beijing has gathered all the national delicacies. No matter the Sichuan food, Shandong cuisine, or Cantonese dishes, you can literally have whatever you want. Besides, western cuisines like French cuisine, Russian dishes, Italian delicacies, American fast food, and many more are introduced to Beijing, becoming good treats for Beijing people.
Nevertheless, Beijing still preserves traditional Beijing food and snacks. The No.1 food is Peking Roast Duck. The Quanjude Roast Duck is a hundred-year-old restaurant specializing in roast ducks. Here is a guide for where you can find the authentic Beijing food.
Beijing Royal Cuisine used to be a major pillar of Beijing cuisine, reflecting the historical characteristics of Beijing being the capital city in the past. Today, those dishes disappeared and we can only find somewhat similar dishes in certain fancy restaurants. Hotpot is also a favorite of Beijingers. The winter in Beijing can be very cold, which makes hotpot a necessary treat. There are also all kinds of Beijing snacks, which you can find in some small hidden hutongs, night markets, or free markets. Oil Pancakes, Soy Milk, Deep-fried Cakes, Jellied Bean Curd, Tea Soup, Baked Sweet Potatoes, Wontons, and Baked Wheat Cake are just a few that you can still taste today.
Beijing Speciality
Besides food and snacks, Beijing also has a lot of special products that can be great souvenirs.
1.Snuff bottle: it is usually made of glassware, but some valuable ones can be made of jade, crystal, agate, or emerald. On the snuff bottle are often inscribed with calligraphy works, landscape paintings, flowers, birds, ladies' images, legends or stories. It will be a great high-end gift.
2. Classic Jingbajian (eight Beijing style pastries): traditional Beijing pastries with fillings made from jujube paste, green plum, raisins, rose pedals, sweet bean paste, refined sugar, banana, and pepper.
3. Daoxiangcun Pastry: a nation-wide famous pastry brand established in 1895. The most famous pastry of this brand is the Poria Cake, which is both tasty and beneficial for health.
4. Cloisonne: a kind of enamel painted porcelain with georous decorations and patterns.
5. Osmanthus - fermented Wine: a kind of rice wine made from osmanthus flowers, light flavored, health-beneficial and tasty.
6. Qiuligao: a dietary beverage made from pear. It helps to moisten lung for arresting cough. It's a great present for people who smoke a lot.
Beijing Attractions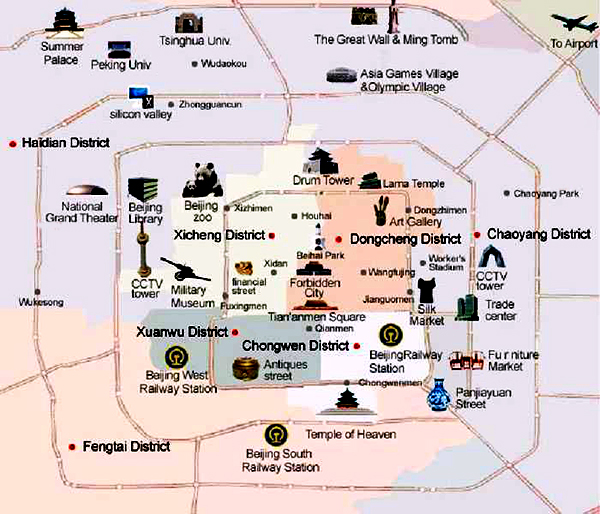 Central Beijing
Tian'anmen Square - the largest city square in the world.
Forbidden City - the largest and best-preserved ancient architectural complex in the world.
Jingshan Park - a famous royal park in Ming and Qing Dynasties and a great place to have a full-view of Forbidden City.
Maozedong Memorial Hall - a place you can know all the interesting stories about Mao Zedong.
Western Downtown Beijing
Beihai Park - a royal park with over 800 years of history.
Baiyun Temple - a great place to understand Chinese Taoism culture.
Daguanyuan - originally a tea plantation in Qing Dynasty and was renovated in 1980s based on the Daguanyuan described in Dream of the Red Chamber.
Eastern Downtown Beijing
Lama Temple: the largest and best preserved Lama Monastery in Beijing.
Confucius Temple: a place where emperors of Yuan, Ming and Qing dynasties used to offer sacrifice to Confucius.
Directorate of Imperial Academy: the highest educational institution in Ming and Qing dynasties.
Temple of Heaven:a place where Ming and Qing emperors performed solemn rituals for bountiful harvests.
Suburb Beijing (western side)
Summer Palace - the best-preserved royal garden retreat in Ming and Qing dynasties.
Xiangshan Park - an imperial hunting park in Jin dynasty.
Temple of the Reclining Buddha - famous for the bronze statue of Sakyamuni in 54t of weight.
Old Summer Palace - the most valuable royal garden before Anglo-French troops ransacked it 180 years ago.
Tsinghua University and Beijing University - two advanced higher-education institutions.
Outer Suburb Beijing (southwestern side)
Lugou Bridge: the oldest stone arch bridge in Beijing (built in 1189).
Tanzhe Temple: the earliest Buddhist temple in Beijing.
Jietai Temple: a temple famous for the Jietai (a place where Buddhist discipline being imparted) and pine trees.
Peking Man Site: one of the origin of human civilization.
Outer Suburb Beijing (northwest side)
Ming Tombs: a grand tomb complex for Ming dynasty emperors.
Badaling Section of Great Wall: the earliest section of Great Wall being public and also the best-preserved section.
Outer Suburb Beijing (northeast side)
Mutianyu Section of Great Wall: a section with stunning views and unique architectures.
Simatai Section of Great Wall: a section famous for its steepness and grotesqueness.
Beijing has a temperate continental climate with distinct seasons. The Spring can be windy and sandy and the temperature is still low. The Summer is rather hot and sometimes stormy. The Autumn is often warm and comfortable, which makes it the best time to visit Beijing. However, late Autumn can be very chilly. The Winter is dry and cold. Therefore, plan your Beijing trip in Autumn and we will be here for you!