Watch a Show
1.Beijing Opera at Liyuan Theater
With combination of music, speech, dance and acrobatics, Beijing Opera is the best way to know traditional Chinese myth and legend.
Location: Beijing Qianmen Hotel, No, 175 Yongding Road, Beijin
Duration: 19:30 - 20:50
Contact Number: 010-65524990
2.Acrobatic Show at Chaoyang Theater
As a show requiring strength, confidence and courage, audiences are often amazed by the show and found in a sweat.
Location: No. 36 North Road of Eastern Third Ring, Chaoyang District.
Duration: 19:00 - 20:00
Contact Number: 010- 51662527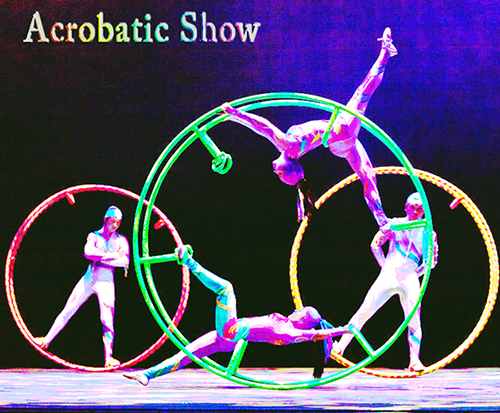 3.Kungfu Show at Red Theater
If you are a Chinese Kungfu fan, this show is perfect for you! The sophisticated Kungfu martial arts performed by the Kungfu masters will be presented!
Location: No.44, Xingfu Street, Dongcheng District.
Duration: 19:30 - 20:30
Contact Number: 010-52865388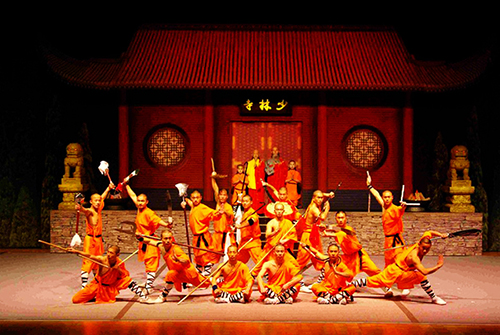 4.Mask-changing Performance at Laoshao Teahouse
Laoshao Teahouse is where you can experience a lot of Chinese cultural elements like Peking opera, cross-talk, Mask-changing performance, magic, tea ceremony and many more.
Duration: 19:50 - 21:20
Location: Building 3, Zhengyang Market, West Street, Qianmen
Contact Number: 010-63036830/63021717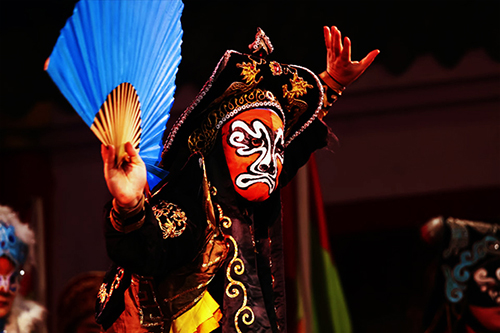 5.Crosstalk at Deyunshe Theater
If you did your homework on Chinese culture, you must know that crosstalk is a traditional Chinese entertainment form. It requires some Chinese language and culture background to understand some of the jokes. Nevertheless, it's still a great place to experience the beauty of Chinese language.
Duration: 19:15-22:00 (unavailable on every Monday)
Location: No.1, Beiweilujia, Xuanwu District.
Contact Number: 010-63040912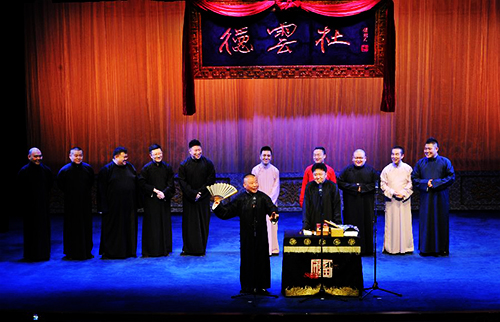 Hit a Bar
If you prefer to have a drink after a long day work or just relax at a Saturday night, here are some unique bars we collected from our guest friends.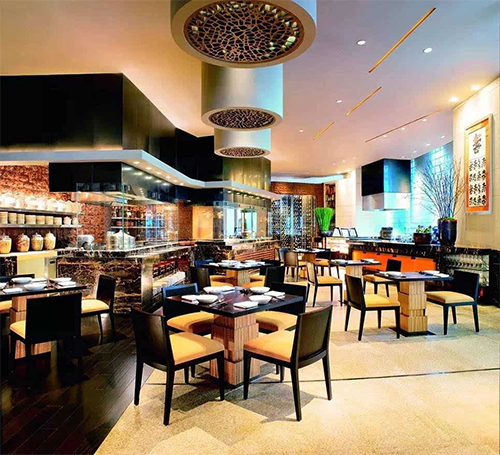 Cocktail bars:
1.Mai Bar
Address: No.40, Beiluoguxiang, Dongcheng District (10m northeast of the crossing between Cheniandian Hutong and Beiluoguxiang)
Duration: 18:00 - 02:00 (Friday and Saturday); 18:00 - 01:00 (Monday to Thursday, Sunday).
2.Apothecary
Address: No.81, Sanlitun Bar Street, Chaoyang District.
Duration: 18:00 - 02:00
3.Mesh and Punk in the Opposite House
Address: No.11 Courtyard, Sanlitun Road, Sanlitun Street, Chaoyang District.
4.D Lounge
Address: 4 Gongti, Beilu, Sanlitun
5.Q Bar
Location: Top floor of Chang'an Business Hotel, Sanlitun Nanlu Chaoyang District

Beers and Whiskey
1.Amilal
Address: Inside the No.48 Courtyard, Shoubi Hutong, No.66, Eastern Street, Drum Tower, Dongcheng District.
2.El Nido
Address: No.59, Fangjia Hutong, Dongcheng District.
3.Mao Mao Chong
Address: No.12, Banchang Hutong, South Street, Dongcheng District.
4.Great Leap Brewery
Address: #6 Doujiao Hutong, Di'Anmen Outer Street, Dongcheng District
Wine
Enoterra
Address: D405, Nali Patio, 81 Sanlitun Lu, Chaoyang District
Rowdy Bars
1.Danger Doyle's
Address: F2, Building 4, Zhongguohong Street, Gongti Donglu, Chaoyang District.
2.Kokomo
Address: F4, Tongli, Sanlitun Houjie, Chaoyang District.
Hunt for Food
1.Taste Beijing Roast Duck
A feast of Beijing Roast Duck is just the right thing to round-off a perfect long day of sightseeing.
Recommended Beijing Restaurants for Peking Roast Duck:
1.BeiJing Dadong Roast Duck (JinBao Hui)
Address: Jinbao Place, No.88 Jinbao Street, Dongcheng District
2.Siji Minfu Restaurant Peking Roast Duck (Dengshikou)
Location: 1/F, Donghua Restaurant, No.32 Dengshikou West Street, Dongcheng District
3.Guo Guo Sifang Roast Duck
Address: No.2015 Vantone Center, 6A Chaowai Dajie, Chaoyang District
4.Jingzun Peking Duck Restaurant
Location: North of Building 6, Taipingzhuang Nanli, Chunxiu Road, Chaoyang District
2.Hotpot
1.BeiJing Haidilao Hot Pot (Wangfujing)
Address: 8/F, In 88 Shopping Mall, No.88 Wangfujing Main Street, Dongcheng District
2.Dong lai Shun Restaurant
Location: No.198 Wangfujing Street
3.Hongyuan Nanmen Hot Pot (Temple of Heaven Branch)
Address: Bldg 13, Yongnei Dongjie Dongli, Chongwen, Beijing
3.Beijing Snacks at Night Markets
Guijie (Ghost Street)
Address: Dongzhimen Street, Dongcheng Street.
Fangzhuang Food Street
Address: Pufang Road, Fengtai District.
Shichahai
Address: Shichahai, Xicheng District.
Niujie Islamic Culture District
Address: Niujie, Xicheng District.
Qianmen Area
Address: No.123, Dajiang Hutong, Qianmen Street.
Wangfujing Food Street
Address: Wangfujing Street, Dongcheng District.
Sanlitun Bar Street
Address: Sanlitun, Dongzhimenwai Street, Chaoyang Street.
Fucheng Food Street
Address: Fucheng Road, Haidian District.
Food Street in Xiaoyun Road
Address: Xiaoyun Road, Chaoyang District.
Jinbao Street
Address: Jinbao Street, Dongcheng Street.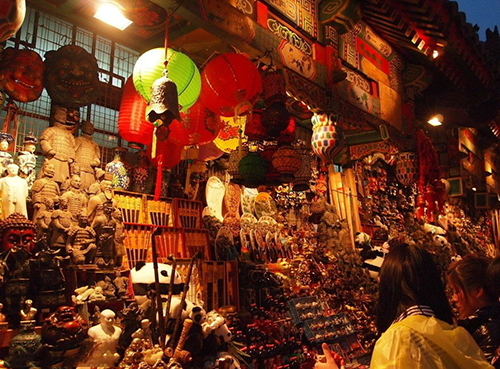 Experience Traditional Chinese Crafts
1.Chinese Paper-Cutting
Make yourself a piece of paper-cutting work with auspicious meaning like "福".
2.Chinese Knots
The Chinese Knot is a symbol of Chinese traditional culture and is a typical weaving art. Join a small group and learn this art with a old lady.
3.Facial Make-up
If you have seen a Beijing Opera, you may have wondered how the facial make-up was done. You can in fact, learn how to do it right in Beijing.
Have a Night Tour
Hike on Simatai Great Wall
Among all the sections of the Great Wall, Simatai Great Wall is the most unique one. It is nearby the Gubei Water Town and has got the allegedly most beautiful night views. If you like to stay late, hiking on Simatai Great Wall at night would be a great idea. You can get to there in the afternoon and spend half your day in the Gubei Water Town, and then trek along the magnificent Great Wall at night.
Camp at Huanghuacheng Great Wall
Huanghuacheng Great Wall is one of the undeveloped sections of Great Wall. Most people choose to hike here, but we suggest you have a night camp here. It would be fun to camp inside an old military tower and away from the daily routines.
Enjoy the Night Views of Beijing
The night view of Beijing is very spectacular, here are ten places where you can enjoy the best night of Beijing: Bird's Nest, Water Cube, Sanlitun, China World Shopping Mall, Solana, Shang'an Street, Central Radio and TV Tower, National Theater, Shichahai area, and Qianmen Street. If you need a guide to navigate your way around Beijing, don't forget to contact us!