Zhangjiajie City is situated in the northwest of Hunan Province, about 400km away from Changsha City. It's composed of four regions, Yongding District, Wulingyuan District, Cili County and Sangzhi County respectively. Wulingyuan Scenic Area, where all the famous and important attractions area situated, is located in Wulingyuan district.
Famous for the natural scenery, Zhangjiajie city is a great place for visitors seeking natural wonders. The humid semi-tropical climate of Zhangjiajie has granted these scenic areas with various kinds of vegetation, animals, caves and rivers. In the city, there are over 300 scenic spots, including verdant Zhangjiajie National Forest Park, grandiose Suoxiyu Nature Reserve, oddly-shaped Tianzi Mountain, magnificent Tianmen Mountain, splendid Zhangjiajie Grand Canyon (Zhangjiajie Grand Canyon Glass Bridge is the world's longest and highest glass bridge) and paradise-like Yangjiajie Scenic Area.
In addition, there are several minority groups living here harmonious with the nature, including Tujia, Miao and Bai. Most of these people are no difference to Han people in other places, but some are still living in a traditional style of producing rice, cotton and tea and preserving their primitive and simple folk customs and rich ethnic culture.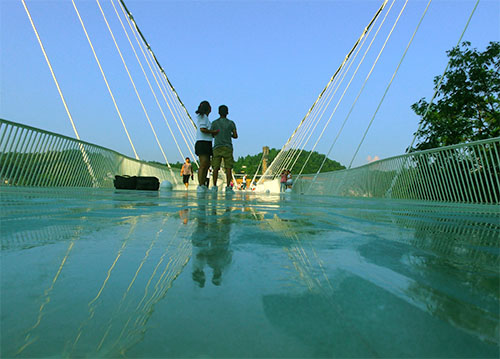 Best Time to visit Zhangjiajie
Spring and Autumn are the best seasons to visit Zhangjiajie. During Spring, all the fresh and fragrant trees, grass and flowers are alive again, adding more charm to the already scenic Wulingyuan area. While in Autumn, Zhangjiajie has a more pleasant and comfortable weather and many seasonal fruits like kiwi and tangerine are ripening. Relatively speaking, Summer is hot and humid in Zhangjiajie while the Winter is too cold. Therefore, plan your Zhangjiajie tour in Spring or Autumn, you will be amazed!
What to Wear
Zhangjiajie has less distinctive four seasons, but the temperature of a day in Zhangjiajie varies greatly between daytime and the night. As most of the attractions in Zhangjiajie are located in Wulingyuan area, which is about 35km from Zhangjiajie city, the temperature of those scenic spots are lower than that of the city by about 5-10 centigrade.
Periods of April - June and September - November: the temperature is much lower than that of Zhangjiajie city. Some long-sleeved clothes are still required in early morning and late evening. May is the rainy season, remember to bring warm clothes and the raincoats.
Period of July - August : the mountainous Wulingyuan scenic areas are great resorts for in hot Summer. It's cool and comfortable. However, if you stay at Zhangjiajie city, wear sunglasses and sunscreen cream.
Period of December - February: it's likely to have snow on the mountains, prepare cane and non-slip shoes before trekking.
Mountain Hiking Tips:
1. Bring as less luggage as possible during hiking;
2. Bring an umbrella or raincoat just in case;
3. Prepare sun-blocking creams, hat, sunglasses and anti-mosquito oil;
4. Prepare a flashlight in case it gets dark in some places;
5. The forest parks in Wulingyuan areas are all No-fire Zones. Smoking, picnics and campfires are all strictly prohibited.
How to Get to Zhangjiajie?
A: Zhangjiajie Hehua International Airport
The airport is located in Hehua Village, Yongding District, about 6 kilometers from the urban area. Currently, it has direct flights connecting cities like Beijing, Shanghai, Taipei, Shenzhen, Chongqing, Hangzhou, Changsha, Guangzhou, Xi'an, Chengdu, Nanjing Busan, and Changzhou.
1. Airport Shuttle Bus: there are only a few shuttles buses between the airport and the Zhangjiajie downtown area. However, if you have a lot of luggage, it might not be a good option.
2. Bus: bus.No.4 can take you to the urban area. The route has Line A and Line B two lines, remember to check with the conductor which line you should take.
3. Taxi: In daytime, the fare between airport and city hotel is about 20RMB, which at night is about 30 RMB.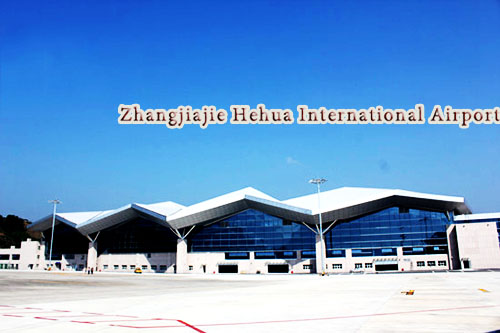 B: Zhangjiajie Railway Station
It's a regular train station connecting Zhangjiajie and Beijing, Shanghai, Guangzhou, Shenzhen, Changsha, Nanning, Guiyang and other cities in China. When you arrive at the Zhangjiajie Railway Station, you just need to walk for a few minutes left to the Zhangjiajie Bus Terminal to take the bus to the Wulingyuan scenic areas. It's can be time-consuming to take train if you only have a few days to tour in Zhangjiajie.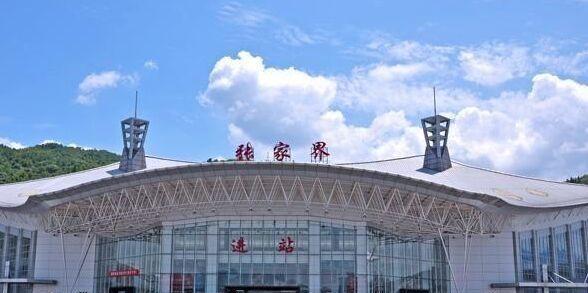 How to Get around in Zhangjiajie?
City bus: Zhangjiajie city is quite small and there are only 10 bus lines in the city areas. Bus No.4 passes Zhangjiajie Hehua International Airport; Bus No.5 and 6 pass the Zhangjiajie Railway Station and the bus terminal; and the bus No.10 passes by Cable Car Station of Tianmen Mountain and Tujia Folk Garden. There is no city bus connecting the city and the Zhangjiajie National Forest Park. You need to go to Zhangjiajie Bus Terminal and take the bus there.
Taxi: The flag-down fare of Zhangjiajie taxi is 5RMB/1.6km and it charges 1.6RMB/km for a journey within 1.6-10km, and 3.2RMB/km if your journey exceeds 10km. As most people come to Zhangjiajie to enjoy the beautiful sights in Wulingyuan area, it's cost-efficient to have a charted car, which is about 100 RMB.
Tip: many local taxi drivers may rip you off if you don't know the route. Remember to do your research beforehand and ask for the bill.
What to See in Zhangjiajie


Located in the southern part of the Wulingyuan Scenic Zone, next to Suoxiyu Valley and Tianzi Mountain, Zhangjiajie National Forest Park is a national-level forest park in China and the highlight of beautiful Wulingyuan Scenic Area. With characteristic peaks, peaceful streams and magnificent trees, the Zhangjiajie National Forest Park hosts countless of fauna , such as Dove tree, pulse, orchid and floras like Golden Pheasant, Rhesus Monkey, Giant Salamander and Musk Deer. As for water, you can enjoy the Golden Whip Stream. It's also well-known for the pristine water, you may wander among the verdant plants and have a tranquil time in the valley.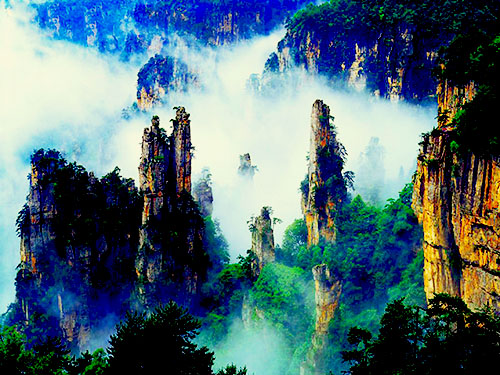 2.Tianzi Mountain Nature Reserve
Situated in the northwestern part of Wulingyuan Scenic Zone, Tianzi Mountain Nature Reserve is one of the four famous scenic spots in Wulingyuan Scenic Zone (the other three refer to Zhangjiajie National Forest Park, Suoxi Valley Nature Reserve and Yangjiajie Scenic Area). The name "Tianzi (son of the heaven)" is named after a man named Xiang Dakun had led a uprising in the Southern Song Dynasty (1127 -1279) and claimed himself the "Tianzi". The scenic spot prides itself with odd-shaped peaks and mysterious mist. Riding on a cable car, you can reach the top of the peak and enjoy the panoramic view of the surrounding mountains and valleys.
3.Tianmen Mountain
Situated 8 kilometers away from Zhangjiajie City, Tianmen Mountain is hailed as the "Soul of Wuling". It is the tallest mountain in Zhangjiajie covered with well-preserved forests, rare plants and species, and eccentric bonsai, displaying a fairyland under heaven. There are two particular sights you must see in Tianmen Mountain - the Tianmen Cave and the Heaven-linking Avenue. The Tianmen Cave is said to connect the heavenly gate and it takes 999 stairs to get there from the platform, and the Heaven-linking Avenue is a 11km long, steep winding mountain road which you can either take bus or ride a bike. If you are not a fan of exercise, you can always take the Tianmenshan Mountain Cableway - the third wonder to enjoy the ever-changing mountain view and landscapes.
4.Suoxi Valley Nature Reserve
Situated in the northeastern part of the Wulingyuan Scenic Area, the Suoxi Valley is the largest valley in the area. Like other great scenic spots in Zhangjiajie, the Suoxi Valley is also a place hosting grotesque peaks, various plants and rare species. However, it has more streams, karst caves and narrow gorges.
Along the valley, there is a big stream flowing down the gully, producing a cloud of mist; while the peaks and cliffs in various shapes are showering among it. Outside the oddly-shaped rocks and flowing rivers, there are many stone bridges and caves formed by limestone. Between these rocks and caves, there lives animals like rhesus monkeys, pangolins, giant salamanders and leopards, with wild medicinal herbs growing all over the valley.
5.Yellow Dragon Cave
Huanglong Cave, aka Yellow Dragon Cave is one of the essential sights in Zhangjiajie Wulingyuan Scenic Area. It was praised as the "All-around Champion Karst Cave in the World".
The vertical cave structure, cavernous caverns, ten of thousands of stalagmites, magnificent cave waterfall, and multiple ways of visiting route make the Huanglong Cave one of the must-see sights in Zhangjiajie. Entering the world with Led lights coloring everywhere, you will feel like walking in a paradise. The dripping water is everywhere, slowly shaping the rock formations. Yet, the Huanglong Cave is not just about dripping water, you will also find a 40-meter high waterfall rushing down the center the a hall ceiling, rivers formed on the ground interlacing with each other. You may hop into a boat and cruise down the maze-like cave while admire the varied tall stalagmites. In the Dragon's Palace Hall, you will find two famous stalagmites, the Sea-Suppressing Needle dating back to 10000 years ago and the King's Throne. Each bear a different legend.
6.Baofeng Lake
Baofeng Lake used to be a deep canyon. The local people established a 72-meter-high reservoir to reserve water for irrigation and an unexpectedly beautiful lake was created. You will take the boat to enjoy the lake. Surrounded by the mountains, you will hear the sound of rushing water before you could see the waterfall. Then suddenly, a song will begin. The folk song of a local girl of Tu nationality singing to welcome you. Then, you will hear a male voice echoing her singing. Your tour guide will share many stories of the Tu People with you.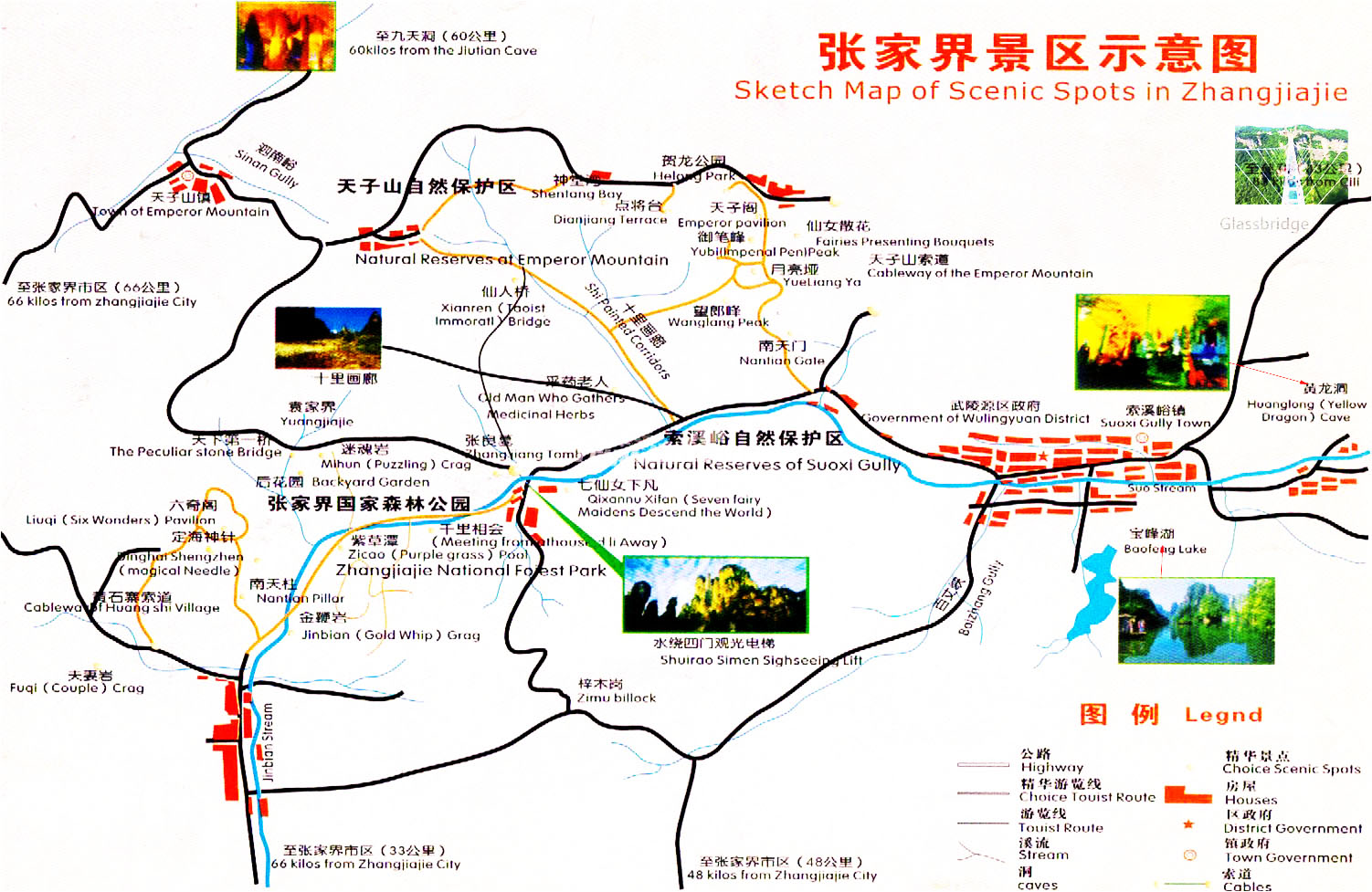 Zhangjiajie Tour Packages
7 days Fenghuang - Zhangjiajie - Avatar Trip
4 days Shanghai -Zhangjiajie Trip