As a world-famous tourist city, Guilin is famous for its picturesque mountain and river landscapes. The typical "karst" landform has bestowed Guilin with a lot of unique tour resources like hills, cave and stone sights.
Best Time to Visit Guilin
The period between September and November is the best time to visit Guilin as the weather is more pleasant and the Li River has a moderate volume of water for boating.
What to Wear
Guilin is located at a relatively low latitude and it has a subtropical monsoon climate, featuring mild climate all year around, abundant rainfall, rich sunlight, long Summer and short Winter. July and August are the hottest seasons in Guilin, and the average temperature during this period is 28 centigrade. While January and February are the coldest seasons with an average temperature of 9 centigrade.
The average temperature in Spring is 18 centigrade, therefore, thin jackets are necessary.
The mean temperature in Summer is 28 centigrade and the air is humid and sweltering, thus, some thin and cool T-shirts or dresses are in need.
The medial temperature in Autumn is about 16 centigrade, which means you might need some warm clothes like the wind coat, jacket, sweaters.
The mean temperature in Winter is 11 centigrade, you need to prepare some down jackets.
Tips:
1. Traveling to Guilin involves a lot of hiking and boating, we recommend you wear comfortable shoes.
2. The rainy seasons (April - September) of Guilin is quite long, it's important for you to prepare umbrellas and raincoats.
What to See - Must-see Sights in Guilin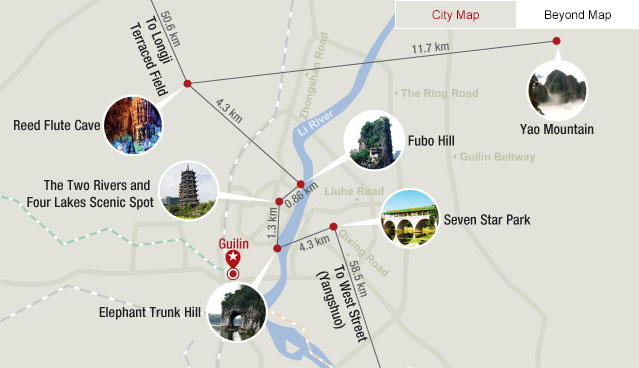 Located in Guilin City of Guangxi Zhuang Autonomous Region, Li River is the pearl and essential soul of Guilin. The 83-km-long waterway meandering from Guilin to Yangshuo can be divided into 3 parts, namely, Guilin to Ox Gorge, Ox Gorge to Water-Dropping Village, and Water-Dropping Village to Yangshuo. With sprawling karstic hills and mountains towering on the both sides, ancient caves and little streams telling the historical stories, boundless rice paddies lying on the earth, vast bamboo groves and forests forming green shadows on the river, leisure water buffaloes strolling around, fishermen and their cormorants floating on the water, and ancient villages creating an atmosphere of tranquility, you will find much peace here.
2.Reed Flute Cave
Situated five kilometers away from the center of the city, the enigmatic Reed Flute Cave is a well-known scenic spot full of stalactites, stalagmites, stone columns, and curtains created by carbonate deposition, as well as flowers in unique shapes and hues. In this 240-meter-long cave, you will have a visual feast of ever-changing spots in the glittering of various lights and auditive feast of intriguing tales.
3.Elephant Trunk Hill
As a scenic icon of Guilin, Elephant Trunk Hill is situated in Elephant Hill Scenic Area (Xiangshan Park) - the junction of Taohua River and Li River. The hill resembles an elephant sucking his trunk into the pristine Li River, hence the name. The beautiful scenery had attracted a lot of ancient poets and scholars, who left us tons of inscriptions on the walls of Water-moon cave, both inside and outside. Besides the Water-moon cave, the Elephant Hill also prides itself with Elephant's Eye Stone, Pagoda for Puxian and Yunfeng Temple. In the daytime, you can enjoy the beautiful scenery; while at night, with the lights coming from nearby Guilin downtown, the Hill becomes more charming.
4. Longji Rice Terraces
There is a vast region of rice terraces stretching layer upon layer in Longsheng County, among which Longji Rice Terraces (Dragon Backbone's Rice Terraces) is one of the best. It shows the different landscape and scenery in different seasons, displaying the grandeur of great nature. In spring, with water irrigation, the terrace presents a picture of chains or ribbons hung on the hillsides. During Summer, massive green shadows cast upon the terrace from the heaven. With the commencement of Autumn, ripened spikes of rice blends the stems, giving people hope of harvest. In winter, the whole terrace is covered with white snow like a playful dragon.
Wondering in the terrace, you can not only enjoy the natural beauty, but also experience the unique culture of ethnic minorities. There are several minorities, including Zhuang, Miao and Yao. You can visit their wooden buildings, learn their beautiful dances and appreciate their costumes and Longji tea.
5. Fubo Hill
Standing alone in the northeast of Guilin city, beside the west bank of Li River, the Fubo (Wave-subduing Hill) is honored as the "Wonderland on Wave" with its high peak rising to the sky. Since the Hill can block and eddy the water flowing by, it is considered as a Hill that can subdue waves. Walking into the Fubo Hill, an ancient temple bell will be seen at the first sight, within which a series of exquisite inscriptions are attached. In the cave walls, you will encounter many Buddhist carvings, enjoying them is like walking through the great time of Tang Dynasty.
6.Yangshuo
Yangshuo is a county under the jurisdiction of Guilin. It's where the Li River ends. Therefore, Yangshuo also has one of the best landscapes in China. There are West Street in Yangshuo downtown area; the smaller but equally picturesque Yulong River where you can ride a bamboo raft; antique Xingping Old Town; thousand-year-old Banyan Tree; ever-changing Moon Hill; and the idyllic and peaceful countryside.
How to get to Yangshuo from Guilin?
1. Li River Cruise (recommended)
Starting from the Mopanshan port in Guilin, you can take the 4-star Li River Cruise to go to Yangshuo while enjoying the beautiful Li River.
2. Bus
Both Guilin Bus Terminal and the Guilin South Railway Station have buses that are bound for Yangshuo. The downside is that those buses only leave once all the seats are occupied.
3. Taxi
Yangshuo is about 80km from Guilin. The fare for cab may costs you about 200 RMB per way.
4. Private transfer
If you find the above ways troublesome, please contact us. We can offer you private car in different sizes.
7.West Street
West Street is the oldest and most prosperous street in Yangshuo. This less than 1km street is made of stone slabs and shaped like a crawling S. There are many simple but elegant stores on both sides of the street selling all kinds of souvenirs. All the signs of the restaurants, cafes, bars and shops are bilingual with both Chinese and English. Even in the smallest store, the servant can also speak English. Many visitors often feel a sense of belonging in West Street.
Transportation System of Guilin
Airport
Guilin Liangjiang International Airport is one of the most important transportation forms that connects Guilin and outside world. There are airport buses that can transfer you between the airport and the downtown Guilin with a charge of 30 RMB/ticket. By taxi, it's about 100 RMB.
Airport Shuttle Bus Timetable
Depart From

Liangjiang Airport

Minhang Building

Passing By

Xichenglukou - Vienna Hotel (Rongshanlu) - Jinshuiwan - Guilin Xiangjiang Hotel

Vienna

Hotel (Rongshanlu)

Arrive At

Minhang Building

Airport

Schedule

On basis of flight info.

6:00 - 21:30; 30min/run

Fare

15RMB/pax

20 RMB/pax; 15 RMB/pax if starting from Vienna Hotel

Duration

50min

50min

Tel.

0773-2845355
| | | |
| --- | --- | --- |
| Depart From | Liangjiang Airport | Yangshuo Bus Terminal |
| Arrive At | Yangshuo Bus Terminal | Liangjiang Airport |
| Schedule | 09:30, 11:30, 13:30, 15:30, 17:00, 18:30, 20:00, 22:30 | 08:00, 10:00, 12:00, 13:30, 15:30, 17:30, 19:30, 20:30 |
| Fare | 50 RMB/pax | 50 RMB/pax |
| Duration | 1.5 h | 1.5 h |
| Tel. | 0773-8881002 | |
| | | |
| --- | --- | --- |
| Depart From | Airport | Guilin North Railway Station |
| Passing By | Guilin West Railway Station | Guilin West Railway Station |
| Arrive At | Guilin North Railway Station | Airport |
| Schedule | Hourly run from 09:00 to 21:00 | 07:30, 08:30, 09:30, 10:30, 11:30, 13:00, 14:30, 15:30, 16:30, 17:30, 18:30, 19:30 |
| Fare | 20 RMB/pax | 20 RMB/pax |
| Duration | 50min | 50min |
| Tel. | 0773-2672777 | 0773-2681111 (Xingfuting Hotel nearby the Guilin North Railway Station) |
| | | |
| --- | --- | --- |
| Depart From | Airport | Wanfu Square (Vienna Hotel) |
| Passing By | Four Points by Sheraton Guilin | Four Points by Sheraton Guilin |
| Arrive At | Wanfu Square (Vienna Hotel) | Airport |
| Schedule | 10:00, 12:00, 14:00, 17:00, 19:00 | 08:00, 10:00, 12:00, 15:00, 17:00 |
| Fare | 20 RMB/pax | 20 RMB/pax |
| Duration | 1h | 1h |
| Tel. | 0773-3843955 (Wanfu Square) | 0773-3843955 (Wanfu Square); 0773-2308369, 0773-2218227 (Four Points by Sheraton Guilin) |
Railway Stations
There are two main railway stations in Guilin, Guilin North Railway Station and Guilin South Railway Station respectively.
Guilin South Railway Station is currently the major station to receive most regular trains and some high-speed trains from all over China. While the Guilin North Railway Station is dedicated to host bullet trains.
Guilin Buses
Guilin has a developed bus system and many buses here are double-decker buses. You can go literally anywhere by bus. There are regular buses and the free buses (starting with number 5) two kinds of buses in Guilin. Many people tend to take the free buses, which means you have to wait longer for such buses. It's not recommended if you are in a rush.
Sightseeing Line 1 is a double-decker bus with air conditioner. It starts from Tian'etang and passes Elephant Trunk Hill, Fubo Hill, Tiecai Hill, Zhongshan Road, Binjiang Toad, Jiefang Road and many prosperous commercial areas. There is also a tour guide on the bus, who can give you an introduction to the city.
Operating hours: 7:00 - 22:00; 15min/run.
Fare: 2RMB.
Free Sight Shuttle Bus
There is a free shuttle bus that goes between 4A scenic spots in Guilin city. You just need to purchase all the entrance tickets for the 4A sights you visit and then take the shuttle bus to get around for free. It starts from Seven Star Park every 15min and stops at each attraction for 3min. The bus also has a full-time guide.
Schedule: early shift (Seven Star Park: 8:15 a.m; Reed Flute Cave: 9:15 a.m); last shift (Seven Star Park: 16:20; Reed Flute Cave: 17:20)
Taxi
The flag-down fare for Guilin taxi is 9 RMB/2km in day time and 11RMB/2km at night (23:00-6:00). For a journey exceeding 2 kilos, it's 1.9RMB/km in day time and 2RMB/km at night.
Tip: try to avoid take the cab nearby the railway station. There may be some illegal taxis misleading or overcharging you.
Bicycle
The attractions in Guilin city are not far away from each other. In most cases, a bicycle can take you to many places. There are many bike rental choices, but in general it's 30RMB/day.
Travel to Guilin with Us
4 Days Li River and Terraces Tour
14 days Nature Paradise Trip