Situated in the west plain of Sichuan Basin, south-central part of China, Chengdu is the capital city of Sichuan Province. During the last 3000 years, Chengdu city has served as the political, economic and cultural center of the province and an important transportation hub connecting cities from all directions in China. Since the ancient times, the city has been praised as "county of heaven" or "land of abundance" (Tian Fu Zhi Guo in Chinese).
It boasts abundant local products, a great number of scenic spots, and historical places. Visitors can admire the exquisiteness of Shu Brocade, the melody of Sichuan Opera, and the daintiness of Sichuan Cuisine. If you are fan of natural beauty, you can climb the Qingcheng Mountain and E'mei Mountain for the magnificent view and tranquil atmosphere, visit the cute Pandas - the national treasure of China and wander in the marvelous Jiuzhaigou Scenic Spot. While if you are interested in the cultural relics, Chengdu is also an ideal spot. There is world-famous Sanxingdui (Three-Star Piles) Museum for early Chinese history, Du Fu Thatched Cottage for Tang poems and literature, Leshan Giant Buddha and Wenshu Monastery for Buddhism culture, Wuhou Temple for the great wisdom of Zhuge Liang. Most importantly, Chengdu is a city to lay back and relax. Welcome to Chengdu and spend your peace time!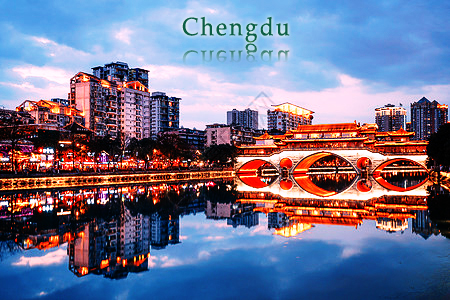 History and Culture
In 311BC, the Qin people built the Chengdu city modelling after the Xianyang city in Shaanxi province. In 256 BC, the Dujiangyan Water Conservancy established by Shu county magistrate Li Bing began to change the overflowing Chengdu plain into a place with fertile land, warm climate and rich natural resources. Chengdu is also lauded as "Flower City" as there are lush flowers and trees surrounding the dense rivers that protect the city.
In addition, Chengdu has always been a political, economic, and military center in southwest China. During the Tang and Song dynasties, the music, dance and Sichuan opera flourished and well-known all over China, among them, Sichuan opera was hailed as "the best opera in the world". Beside, the musical instrument manufacturing in Chengdu is also world-famous. Last but not least, the Chinese Tea Culture originated from Sichuan. According to the existing poems, the earliest tea drinking was from Chengdu. In Tang and Song dynasties, Chengdu was the main area of tea production and trading. Therefore, Chengdu has a unique teahouse culture and also the most teahouses in the world.
Environment
Chengdu is located in the west side of Sichuan Basin, which is surrounded by the Qinling Mountains in the north, Daba Mountain in the east, and Yungui Plateau in the south. It belongs to the subtropical humid monsoon climate zone, characterizing warm and humid climate all year round, distinct seasons, and rich annual rainfall. Many rivers pass by the plain, including Minjiang River, Tuojiang River, Fujiang River, Jinsha River, Yalong River and Dadu River. According to records, Sichuan Basin served as a sanctuary for animals in Ice Age, the million-old giant panda is a strong proof.
Besides, Chengdu Plain is very suitable for agriculture and the establishment of Dujiangyan Irrigation System has significantly improved the productivity level. In addition, Chengdu is also bestowed with abundant travel resources. The most reputable one is the magnificent Jiuzhaigou.
Feel the Pulse of Chengdu
Sip a Cup of Tea at a Local Teahouse
As the homeland of tea, the Chinese are extremely fond of tea drinking. It is a common scene to see people chatting over tea. With a long history of over 3000 years, Ba-Shu (Sichuan) tea has evolved into a unique tea culture. In ancient times, tea houses in Chengdu always served as a place for recreation, gathering, business and civil court. With local performances on the stage, people often went to tea houses for entertainment. They could watch a show while enjoying some local snacks. For friends coming from a distance, tea houses have always been ideal places for gathering and enjoying play. Ancient people sometimes invited their business partners for a cup of tea while completing a transaction. Last but not least, the tea houses also served as civil court in Chengdu. If conflict or a dispute arose between neighbors or friends, they would go to the tea houses and invite a person of great prestige to be the judge. The losing party would pay for all the tea consumed.
Nowadays, tea houses are more like places of leisure. One can order a cup of tea and enjoy local food while sitting with friends chatting, playing cards, chess, or mahjong.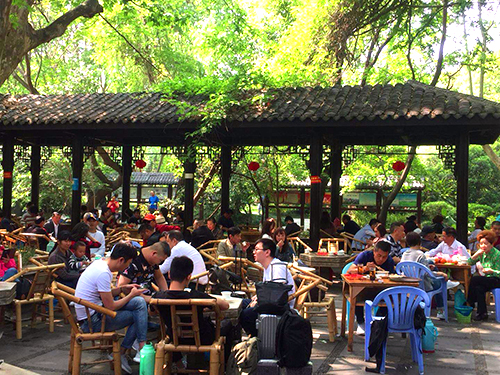 Enjoy a Piece of Sichuan Opera and Mask Changing Show
Sichuan Opera is a local opera popular in Sichuan, Chongqing, Guizhou and Yunnan Province with its vivid, humorous narration, singing, and acrobatics. Integrating the tunes of operas from the Jiangsu, Jiangxi, Anhui, Hubei, Shaanxi, and Gansu provinces, it also boasts unique movements, acting style and musical instruments.
As the essence of Chinese Western folk culture, the Sichuan Opera enjoys international fame with its Face Changing Show, Fire Spitting Show, and Hands Shadow Show. Face Changing is a feature of Sichuan Opera to express the emotional changes of the role so that the audiences can follow the change of moods. While Fire Spitting indicates that the role (usually the evil or demon) is experiencing extreme anger. However, Face Changing is not applied to some roles like Cao Cao, Guan Yu and Bao Zheng, because they are typically evil and loyal roles. Their masks are always white, red and black respectively.
Have a Sichuan Hot Pot
When traveling to Sichuan, Hot Pot is a cuisine visitors should not miss. With thousands years of history, Hot Pot is not like the original Hot Pot in the Western Han Dynasty. It is now more diversified and prevalent. Whether gathering friends or meeting someone, Hot Pot is always a good choice as a meal.
Sichuan is located in the Sichuan basin which can be a damp and cold in winter, so there is nothing better than warming up after enjoying a nice Hot Pot. In a general sense, Hot Pot is prepared by boiling water or soup in a pot and then cooking all kinds of food in the boiling liquid at the table. Hot Pot broths come in different flavors; spicy, light or salty. The typical Sichuan Hot Pot is usually spicy, but if you prefer other flavors, you are free to cook the cuisine as you like. The ingredients put into the Hot Pot usually include both vegetables and meat. You can eat them with various dipping sauces.
Hot Pot is so popular in Chengdu, that you will come across a lot of restaurants serving it, some even serve nothing but Hot Pot. Compared to Chongqing Hot Pot - a type of the Sichuan Hot Pot, Chengdu Hot Pot is not as spicy, which is more suitable for people who do not enjoy eating chili. If you are open to authentic Chinese cuisine and new experiences, you should try a hot pot meal.
Visit Giant Panda
Giant Panda undoubtedly is the essential reason to draw most visitors to Chengdu. There are several panda houses here, of which the Chengdu Research Base of Giant Panda Breeding and the Panda Valley are two most famous ones. The former one is near to the city and has more pandas. While the latter one is where you can interact with panda and participate in the Panda Keeper Program. Here is a
Festivals and Holidays in Chengdu
Fire Dragon Festival in Huanglongxi Ancient Town
Duration: Jan.2 - 15 of Chinese Lunar Calendar
Activities: the Huanglongxi Ancient Town will be decorated with traditional red lanterns, red couplets, red candles and there are activities including burning fire dragons, dragon performance, lion performance, floating water lamps, lighting Kongming lanterns, setting off firecrackers, and watch the Sichuan operas.
Chengdu Lantern Show
Duration: Spring Festival
Chengdu Lantern Show is a traditional folk event developed on the customs of Lantern Festival. It was initiated in Western Han Dynasty, formed in Western Han Dynasty and became popular in Tang Dynasty. The main activity of the festival is to admire all kinds of lit sculpts and objects.
Chengdu Flower Fair
Duration: Lunar Feb.15
Chengdu is a "flower city" since old times. On every lunar Feb.15, there is always a flower fair held in Qingyang Palace when all kinds of rare flowers and potted plants are exhibited.
Chengdu International Peach Blossom Festival
Duration: Mid to Late March
Longquan Mountain has the most prosperous peach blossom in Chengdu. In March, when all the peach flowers blossom, Chengdu International Peach Blossom Festival is held. Besides the performances, you will see the flower exhibitions, water dragon festivals and more.
Chengdu Sightseeing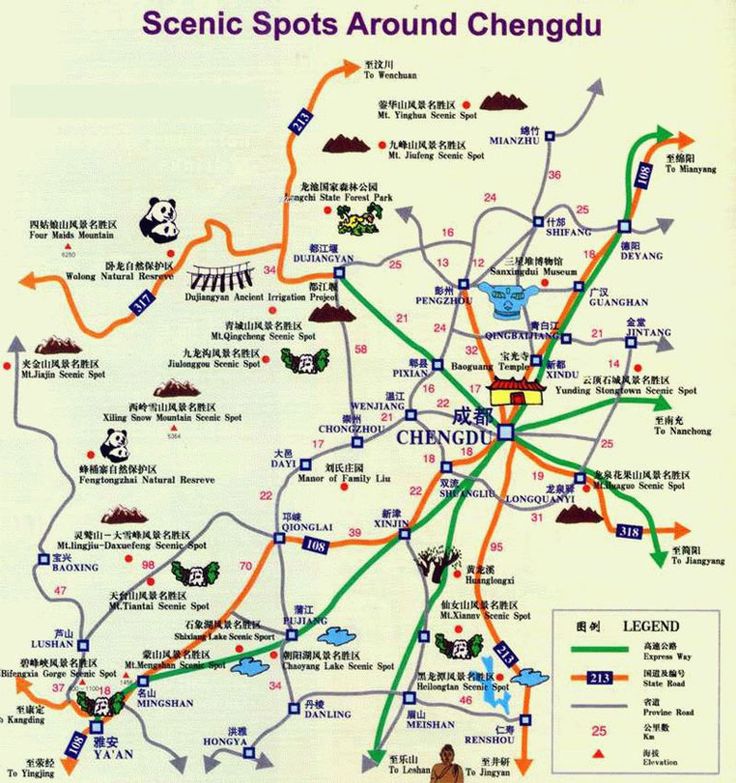 1.Tianfu Square - the largest square in southwest China and a square shaped like a giant Yin and Yang if seen from above.
2.People's Park - a great place to mingle with locals and have a leisure time.
3.Wuhou Shrine - a place for photo shooting and Chinese culture.
4.Jinli Street - a paradise for Chengdu local food and handicraft.
5.Wenshu Monastery - the best-preserved temple in Chengdu and an amazing place for photography and Chinese culture.
6.Qingyang Palace - a Taoist temple with elegant architectures.
7.Kuan Zhai Alley - another food and art street where you can experience the authentic Chengdu local life.
8.Jinsha Site Museum - an entry to the Chengdu past - Shu Kingdom and a place with tons of relics on exhibition.
9.Sichuan Cuisine Museum - a museum dedicated to Sichuan food and culinary culture.
10.Qingcheng Mountain - one of the most famous Taoist mountains in China and a great place for relaxation.
11.Dujiangyan Irrigation System - the oldest and the only surviving no-dam irrigation system in the world.
Visit Chengdu with Lilysun China Tours
7-day Chengdu Relaxing Tour 2 Days Chengdu Highlights Tour 2 Days Classic Chengdu Tour