The Spring Festival Travel Rush in 2020 will be between Jan. 10 and Feb.18, when train tickets and air tickets are in great demand. Lily Sun China Tours suggests you avoid these times to travel. In case, you happen to travel then, please book your tickets as early as possible.
As we all know the Spring Festival is the most important festival in China. For most people, it's a great time to reunite with their families or travel around, which makes the Spring Festival Travel Rush the largest human migration annually. It lasts about one month. Individual workers or entrepreneurs usually go back to their hometowns about 15-20 days in advance of the Spring Festival. Whilst the common workers can only travel back to their hometowns a few days before the festival.
During this time, railway stations and airports deploy more policemen to ensure security, and open more booths and temporary windows for customer service. Yet, there is still unpleasant congestion.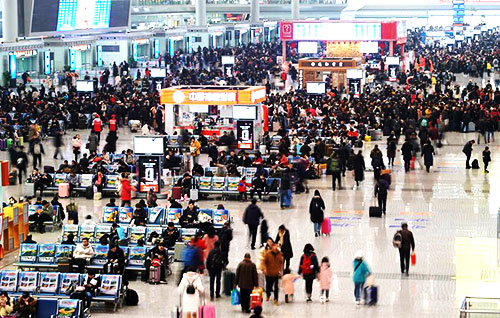 Touring during the Spring Festival Travel Rush
It's a great challenge to find tickets during this rush, but it's not impossible to travel then. You just need to be better organised and planned than usual.
1.Air or train tickets booking
Please book as early as possible. For air tickets, book whenever its convenient for you but Lily Sun China Tours suggests you book as soon as you have confirmed your tour plan.
For train tickets, there is time restriction. Usually, the earliest that trains can be booked is about 28 days ahead of travel. If you are booking on your own, please check the online booking system everyday and purchase once the buying window opens.
If you ask agents to book for you, please remind them constantly and submit your passport information earlier.
If the train tickets are all sold out, do not despair. You might still be able to book. Sometimes, there are cancellations that make tickets available again. Keep checking availability.
2.Taking a train
Whether you are taking a regular train or high-speed train, it'll always be slow getting onto the train. There will be huge crowds waiting for trains so you should get to the station at least 1 hour earlier.
To cope with the mass of travelling people, the train stations set up temporary waiting areas, which may be outside with no heating. Please bring warm clothes.
Please take care of your belongings and property wherever you go as thieves like to take advantage of the crowds.
Please take good care of your children and keep them with you. Do not let them run in the station as they can easily get lost.
We cannot deny that you will encounter rude people who will not queue while getting on a train. You may confront or argue with them; there are policemen or station staff present to control the crowds. Please take care of your own belongings.
3.Arriving at your destinati
on
Please ignore any taxis or private transfer services that are offered by strangers. Some of them are fraudsters. They will lure you into their vehicles with comparably lower prices, but on arrival at your destination will charge more than you should pay.
Some people may offer you cheap hotels. Do not follow these people. Most of their houses are not legal hotels. The sanitary conditions are poor and the service quality is very unpleasant.
Lastly, Lily Sun China Tours strongly advises you to avoid taking the train during the Spring Festival Travel Rush.